QSP & QSD Training
"Got SWPPP?" Style
Got SWPPP? originated over four years ago with a group of interested person's wanting to see storm water educational training offered in their community. Got SWPPP? has since transformed into a program that not only assists Municipalities in meeting their outreach requirements, but also the Construction Industry in meeting their training and compliance needs. Got SWPPP? has also become a net-working opportunity for vendors, service providers, and participants who attend.
Our Got SWPPP? program has a proven track record for good-solid storm water education. Please check out our Got SWPPP? program, we believe you will find it informative, refreshing, and superior to any other program offered today.
The California State Water Resources Control Board (SWRCB) is now implementing training requirements relating to the Construction General Permit which became effective July 1, 2010, for storm water discharges associated with construction and land disturbance activities. By September 2, 2011, individuals developing and revising SWPPPs must obtain certification as a Qualified Storm Water Pollution Prevention Plan Developer (QSD), while individuals implementing best management practices and/or conducting site monitoring, sampling, and reporting activities must obtain certification as a Qualified Storm Water Pollution Prevention Plan Practitioner (QSP).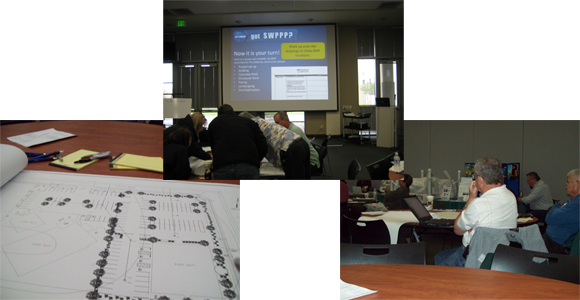 The first step in becoming a certified QSP and/or QSD is to take a CASQA-approved training course. WGR Southwest, Inc. has completed successful "QSD/QSP" state mandated training in Stockton, West Sacramento and Fairfield, CA. Check out "Got Blog?" to see the latest completed events. To learn about all our upcoming training Click here.
For more information about the State of California's Construction General Permit, visit the State Water Resources Control Board.
WGR Southwest's QSP/QSD training covers all eight modules necessary to develop and implement a SWPPP pursuant to SWRCB requirements and criteria. Courses presented by WGR's CPESC, REA, and Certified CASQA Trainer of Record, John Teravskis; with the assistance of WGR's Storm Water Inspector / SWPPP Practitioner, Bret Smith. Both John and Bret give new meaning to the entire training-learning process. Real life experiences are incorporated with "interactive, hands-on / project scenarios" along with training on the proper usage of field sampling equipment. Attendee's are encouraged to participate and interact with the teaching staff. WGR's goal is to leave you with a firm understanding of The State of California's Construction General Permit .